MDpocket Medical Student Edition

Customize this reference guide:
Use our book customizer on MDpocket.com to create the perfect book for your needs! Add extra medical chapters, change the chapter order and remove chapters you don't need. Our reference guides are continuously updated throughout the year to the latest evidence based guidelines. Interested in customizing a reference guide for your program, school, university, or hospital?



      Contact Us Now

Make this book a binder:
While a spiral coil comes standard in our medical references, your book can be bound in a 6-hole binder for added durability. We offer a black vinyl binder that includes interior pockets, as well as a lightweight but heavy-duty aluminum binder.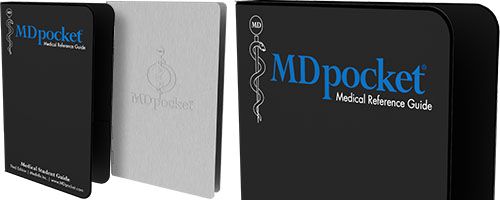 Add extra notes pages:
Need to write extra information in your book? Add these lined blank notes pages to the end of your book to always have paper on hand.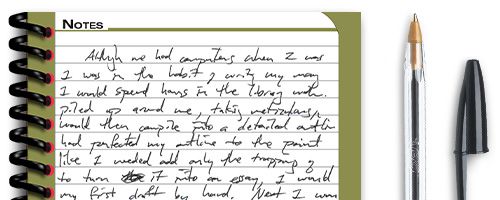 Add a pocket page:

If you need a little extra room to store paper or cards, add a pocket page to your book. Placed after the notes pages in your book (lined to be used like a notes page) our pocket pages will hold any paper smaller than the book for safe keeping.
Get the perfect pocket medical reference for all your needs!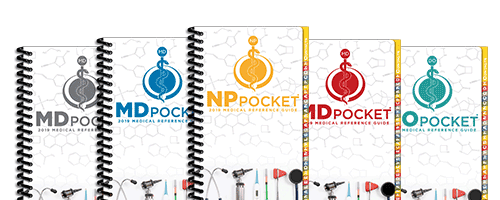 MDpocket Medical Reference Guide

The most current, best-selling medical student pocket guide geared at rapid medical referencing. This reference is used by today's students and interns with quick and easy ways to take care of patients with a unique tab design and sturdy laminated covers. The Medical Student Edition covers information on how to write histories and physical exams (H&Ps), SOAP Notes, fluid calculations, EKG interpretation, lab values and much more listed below.
See all the chapters included inside this reference guide by either clicking on the Specifications tab to see the actual pages inside this guide. Don't need some of the information inside this book? Customize your MDpocket medical reference guide by adding, deleting and rearranging chapters with our book customizer on MDpocket.com. 
| | |
| --- | --- |
| Specialty | General Medicine |
| Use | Medical Students, Interns |
| Size | 6" L x 3.75" W x 0.25" H |
| Weight | 3.4 oz |
| Page Count | 95 |
| Binding | Spiral Bound |
| Covers | Laminated |
| ISBN-10 | 1-943991-98-7 |
| ISBN-13 | 978-1-943991-98-3 |

MDpocket Medical Student Chapter List
Medical chapters included in the standard reference guide.
Conversions

My Contacts

H&P Exam

Admission Orders

Example Notes Cranial Nerves

Nerve Testing

Dermatomes

Mental Status Exam (SLUMS)

Glasgow Coma Scale

Obstetrics Definitions

Newborn Reflexes

APGAR/Scores/Newborn Reflexes

Pediatric Guidelines

Heart Failure Diagnosis and Medications

Cardiac Murmurs

Microbiology Chart

Immunizations

Sepsis Guidelines

CXR Interpretation

Nausea/Vomiting/Diarrhea/Constipation Medications

Diabetes Medications/Management

Fluids/Electrolytes

Acute Kidney Injury (AKI) Algorithm

EKG Limb & Pericardial Leads

EKG Interpretation

USPSTF Screening

Lab Values

Medical Spanish

Blank Notes Pages

Eye Chart