WhiteCoat Clipboard® - Nursing Edition
WhiteCoat Clipboard

®

 - BLACK - Nursing Edition
WhiteCoat Clipboards® has designed a full size clipboard for all nursing professionals to use while taking care of patients. Our unique patented design allows you to fold the clipboard in half for storage in your pocket, white coat or scrub pocket. This folding clipboard is made of lightweight aluminum and has the ability to carry 30 pieces of paper without a crease and securing all your medical information inside. Carry patient assessment forms, nursing protocols, medication lists, and all your documentation in a HIPAA compliant secure folding clipboard. The nursing label applied to the outside of the clipboard functions as a quick medical reference guide with detailed day-to-day information such as basic laboratory values, acid base determination, injection sites, pain scale, and much more. To see all the nursing specific information on this clipboard, hover over the clipboard images above to display high resolution details. Order today to get the latest 2019  Nursing label!
---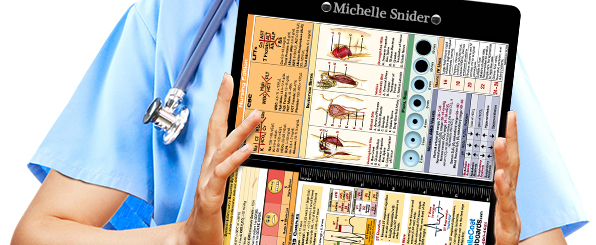 Features:
Full size medical clipboard that folds in half
Lightweight aluminum construction
Holds 8.5" x 11" inch paper - letter or an 8" x 5" inch notepad
Folds in half with ease to 1/2 inch
Holds 15-30 pieces of paper without creasing
Clip to secure all your documents
Hover over the images above to see a detailed view of medical information
Upgrade your Metal Durability:
Increase your clipboard's durability by upgrading to High Grade aluminum to make your clipboard 20% stronger! Choose between 'Standard' and 'High' grade aluminum in the option section. Upgrade yours today! 

Engrave your clipboard:
Personalize your clipboard by adding an engraving in any of our 3 fonts. Engravings are lasered between the rivets on the top rear of the clipboard.

Upgrade your clipboard clip:
We offer clipboard clips in checkerboard texture, blacked out, and with a tag to hang your clipboard.

WhiteCoat Pen Clip:
Get a pen clip designed for your WhiteCoat Clipboard. This clip will fit above the paper clip without covering your engraving. Purchase a pen clip and get one of our pens! Click here to see full details.

WhiteCoat Clipboard Band:
The WhiteCoat Band is our exclusive elastic rubber band to secure all your documents and prevent flaring on our folding WhiteCoat Clipboard. Use this band with any of our clipboards to help secure and protect your vital notes, patient documentation, or simply to hold down any paper within your clipboard. Click here to see full details.


Custom fitted notepads:
Our 8x5 notepads fit the WhiteCoat clipboard perfectly with removable sheets that don't interfere with the foldability of the clipboard! Click here to see full details.



Nursing Edition
Fast reference
Clipboard label contains the most commonly used medical information for fast and effective research
HIPAA Compliant
This clipboard is HIPAA compliant. Its folding design secures and protects yours and your patients documents.
Designed for Nurses 
Designed specifically for nurses this clipboard contains useful informaiton such as injection sites, lab values, pain scales, and more!
Clipboard Features
Folding
This unique patented folding design lets you carry a letter size clipboard in your pocket!
Sturdy construction    
Built from strong aluminum these clipboards have a smooth powder coated finish making them durable and chic. 
Vibrant colors
Choose from 13 different colors to make your clipboard as unique as you!